At the risk of sounding immodest, Value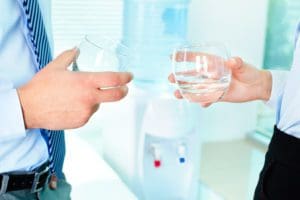 H2O office water coolers are outstanding for so many reasons!
First of all, our water coolers are designed with the latest technology to provide you with the purest, freshest water possible.
Our hi-tech carbon water filters remove harmful impurities like lead, chlorine and other contaminants while retaining essential fluoride.
But that's not all!
Unlike conventional water coolers, Value H2O office water coolers can be refilled as required or plumbed in directly into your existing water system. Value H2O office water coolers use a refillable bottle reservoir or are directly connected to your water mains, our customers are saving the environment from waste, pollution & energy resources used in mass bottle manufacturing.
Our team of expert technicians is available to provide regular maintenance and repairs, so you can be sure that your water cooler is always in top working condition. We fully maintain all our office water coolers with regular servicing including filter replacement, sanitizing and thermostat checks.
Let's not forget about how good they look in any situation. Value H2O office water coolers are sleek and modern, designed to complement any office decor.
If that was not enough, there's the famous Value H2O customer service!
We believe in going above and beyond to ensure that customers are completely satisfied with their water cooler experience. From the moment you contact us to the time you take your first sip of refreshing Value H2O water and well beyond, we will be there to answer your questions, provide support, and make sure everything runs smoothly.
Made in Australia to the highest quality standards, Value H2O Office Water Coolers will save you money, are more cost effective than bottled water or springwater and better for the environment.
Try our 30 day free trial
Just a few of the many reasons why Value H2O office water coolers are the best choice for your workplace.
Try one out today and see the difference for yourself!