Running late and heading out the door fast? Bought water fusion ingredients in bulk to save money, but they wilting so soon? No problem. Make water fusion ice cubes. Just make, freeze, and drop! Here's Amy's recipe from infusedwaters.com:
Fill an ice cube tray halfway with water.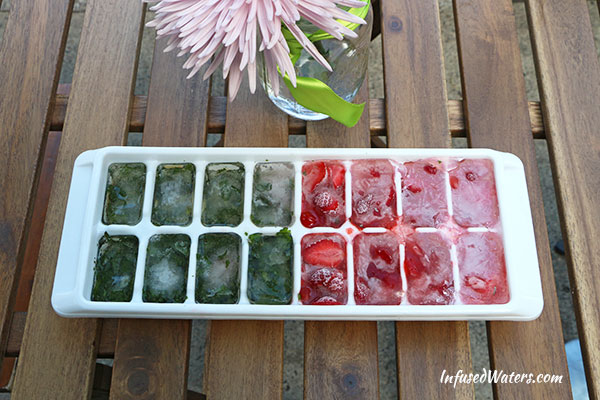 For herbs, cut them into small pieces. Ball them or squeeze them slightly between your fingers and cut them up. For fruits, slice them thinly to release more of the flavour. You can mix and match fruits and herbs in the same ice cube tray. Submerge the herbs in the water and press them down with your finger. The herbs do not need to be completely covered, they tend to float, but do the best that you can. Put the tray in the freezer for a few hours. If they are already frozen, add a little more water until it goes near the top of the tray. By doing this, you can make sure that the herbs will stay in the middle of the ice cube.
These infused ice cubes can be stored in the freezer for weeks and probably even months. Just pop one out if you want to use it as an ingredient in an infused water drink. Perfect if you are running out the door for work and don't have time to make an infused water from scratch. Basil and strawberries are a rich source of vitamins B1 through B6, vitamin K, copper, magnesium, manganese, phosphorus, and potassium.
Nutrition Information:
Calories: 249
Protein: 7 grams
Fiber: 11 grams
Calcium: 15% DV
Iron: 4.7mg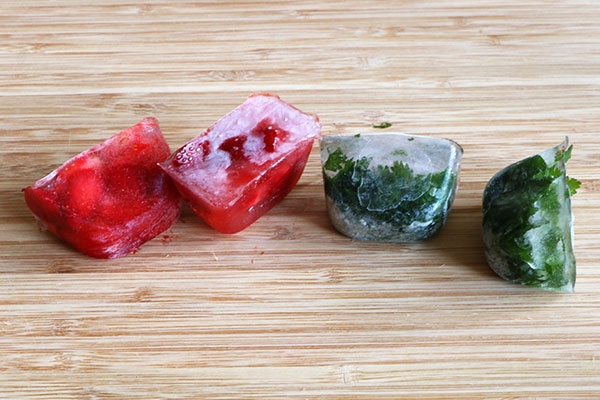 You can use different fruits and herbs and try out different combinations!