Winter doesn't always have to feel cold, dull, and lonely. And staying hydrated and replenished doesn't always mean just having one option- plain water. Drinking fruit infused water is a great way to increase water intake, a great source of vitamins, anti-oxidants, and immunity boosters.
Although these drinks are really refreshing in summer, you can bring the summer vibe into winter with you. We've also included a fruit infused hot water recipe that is warm, calming and relaxing. Perfect to drink after a long day at work.
Watermelon and Mint Water (Photo: ThePennyWiseMama blog)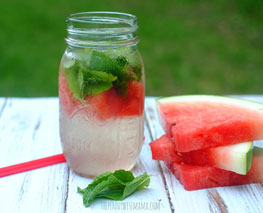 Watermelon is a great immunity booster. It contains high levels of Vitamin C and Citrulline, excellent for flushing out toxins from our body. The mint leaves aids digestion and prevents stomach cramps.
Just mix ½ cup of fresh watermelon cut into chunks and a handful of mint leaves into a 500 ml  jar of water.
Orange and Blueberry Water (Photo: thepeachkitchen blog)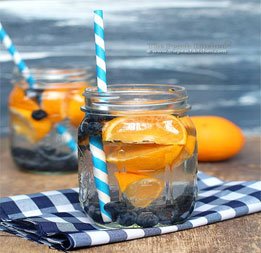 Mandarin oranges are rich in vitamin C and help ward off infections and colds. Blueberries are a very good source of vitamin K, vitamin C, and manganese. Blueberries are also a good source of fibre and copper – known to help fight age related diseases and improve night time vision.
Get 2 mandarin oranges, cut into wedges, get a handful of blueberries and mix with 6 cups of water 
Ginger, Lemon and Mint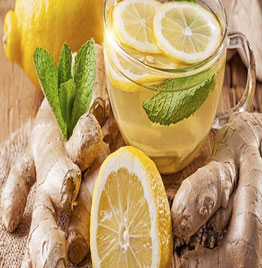 This water fusion is great served both hot or cold. You can have it hot or cold, hot on a chilly winter night or cold at the end of a whole day's fun in the summer. This drink exudes peace and happiness. When you are sick, it gives a "feel better" warmth. Both ginger and mint have great health promoting qualities, and have been in use for a long period of time as a natural remedy for many sicknesses all over the world to relieve pain caused by migraine headaches, heartburn, menstrual cramps and joint pains.
Cut a slice of lemon, with mint and a small piece of ginger and mixed it into 500 ml jar of water.
Drink up and enjoy!